Today was my first day back in the office for my job at Telerik and I decided that I would try an experiment. I would use only my Windows 8 tablet that I received at the Build conference last week for both my work and play. I put away my Lenovo laptop (for work) and my iPad (for reading in bed) and decided I would use only the tablet for the next few days.
The tablet came with a Bluetooth keyboard and dock, so I put that together and started to play around.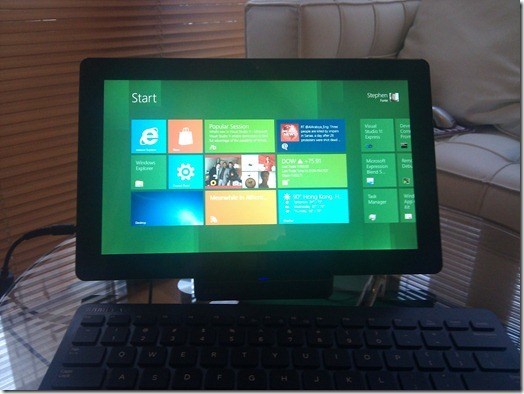 The first thing that I realized is that the traditional Windows "Start" menu is gone, completely replaced by the Metro UI. Cool. Then I installed the imperative items:
Evernote
Dropbox and Live Mesh
Live Writer
Skype
I had to install them in "Desktop" mode and they showed up in the Metro Start menu. Cool.
My day started with doing regular emails back to the Telerik offices around the world, so I did that through Gmail and Outlook Web Access in Internet Explorer 10 in the Metro mode. Quickly I realized that I don't need a mouse, but have a USB mouse nearby very handy.
Telerik's CEO popped up on Skype to talk for an hour about Build and other things. Worked just great, I forgot I was on a prototype machine. Skype only worked in Windows Desktop mode though. It would be great when Skype is a "live tile" and gives me notifications and messages.
I then went into Visual Studio 11 Express that came included with the machine. Built a few simple Metro applications with XAML and C# and .NET 4.5. I felt like I was building Silverlight or WPF applications, it was pretty straightforward. (More on this in the next blog post.) I tried to share a screen shot of the application on Facebook via Socialite (the built in Facebook app for Metro), however, there was a bug there.
After a few more hours of editing documents, emailing and skyping, I called it a day for work and went out for some dinner. I used the device in "slate" mode and dealt with it touch only and no keyboard/doc. I was able to consume most of the content I like to consume (Facebook, Twitter, hacker news, TED videos, RSS newsfeeds, etc) while eating as if it was an iPad. Obviously there are no apps available yet so I had to do this all via the browser. To be honest, the experience was just fine. (I am not a heavy iPad user, if you play a lot of games, etc, on your iPad, you will miss them until Microsoft opens the App Store.)
I played some Sudoku with my Twitter feed docked on the side, great for my ADD!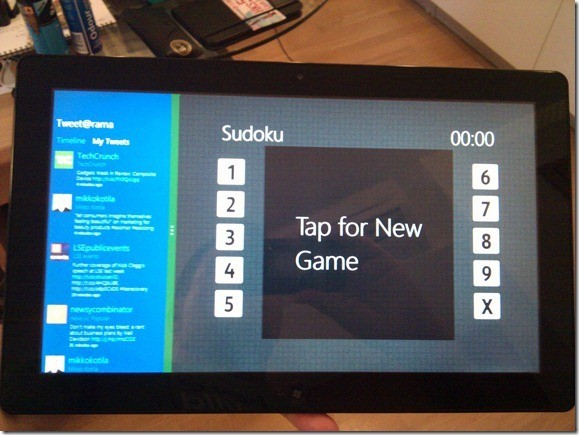 The key thing that I realized after one full day with Windows 8 is that the new Metro UI is the main experience. Even if you are going to use Windows 8 in an enterprise with just the "Desktop" mode, you will interact with the Metro UI as your "Start" button and application launcher (I played around with a mouse and keyboard for a few hours and the Metro UI worked fine with a mouse and keyboard). I am thinking about in the future if you are using a Win8 PC at work and you also have an ARM based Metro-only Win8 tablet/pad at home. The UI and experience are exactly the same for most of your operations. That is pretty compelling.
Lastly I wrote this blog using Windows Live Writer. Time to call it a day. Tomorrow I will post my experience using the Visual Studio 11 Express edition.