Hi, I'm Yordan Dimitrov and I'm the Team Lead of the Sofia Team (you can check Joel's blog about the TeamPulse Team structure). In my blogs I will discuss some of the great TeamPulse features as well as give you useful tips on how to use them to improve your development processes. So let's start.
In the new TeamPulse R2 release we've included a new feature we call backlog management.
What is backlog management?
I'll start with the more narrow term, Product Backlog. A Product Backlog is one of the artifacts of the Scrum methodology and in Agile in general. From Wikipedia "The product backlog is a high-level list that is maintained throughout the entire project."
Backlog management in TeamPulse includes the Product Backlog, the Sprint Backlog (another Agile artifact) and many other things related to backlog like planning, capacity calculation, etc. I'll speak specially about the Product Backlog because the other items are all a subset of the Product Backlog. You can create those additional items with one of the other R2 features called Shared Views, but we'll dedicate another blog post to explain how in the coming weeks.
In the R2 version of TeamPulse, the Product Backlog represents a list where you can see a combination of items like Stories, Bugs, Issues and Risks and for each project, you can define exactly what you want to show in that view. Every project starts with a Product Backlog view with a default definition, but once the project has been created, you can customize it to meet your own unique needs. Do you want your backlog to only show stories? You can do that. Do you want to hide bugs with a low severity? You can do that too. You're in control of what the definition of the Product Backlog is for your project
Within the Product Backlog screen, TeamPulse provides 3 different view modes –
Priority View
This is the more traditional backlog, where you prioritize and order your items by dragging and dropping them into place. This makes prioritization very simple and easy. Just drag and drop one item and it will move to its new desired priority and the other items around it will be re-prioritized as required. We also allow you to prioritize multiple items with a single action.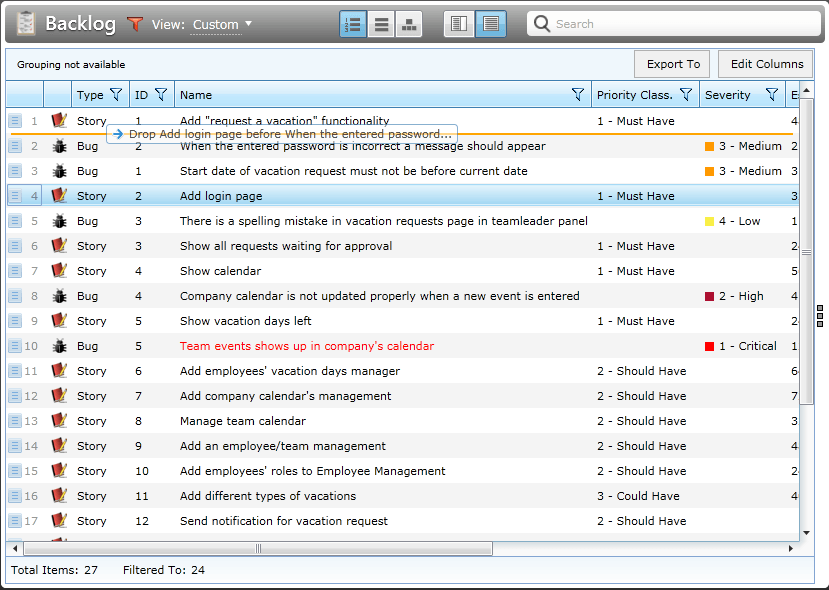 Hierarchy view
This mode allows you to see the hierarchy of stories in the backlog. This is very helpful when you have some big stories (also called epics) that are used as a container for the smaller stories. Using this view mode can be very helpful when you want to see just how much work an epic may be.
Flat View
The flat view displays all work in a basic grid view. This mode makes it easy to estimate and compare individual work items. You can group and sort work in the flat view. For example, grouping by Type or sorting by Priority can be especially useful.
Another cool feature we added to the backlog is the preview pane. While viewing the backlog, you can switch the preview pane on and see and edit the details for the selected item. It allows you to view, edit and prioritize all your items from single screen, which keeps your focus on the backlog.
And because the backlog is part of other planning activities, we added the backlog feature to our View Schedule screen and Plan an Iteration screen, so you can get the all of the same functionality there.
Finally, if you have any feedback or suggestions we will be glad to hear them. Just drop us a line in the comments field below.
We encourage you to create a TeamPulse hosted trial if you want to give the Backlog feature a try. It takes less than 60 seconds. And if you already have a hosted trial, it is automatically update to include the new features.
Happy Prioritization!
Yordan Dimitrov
Team Lead, TeamPulse Team Sofia