The Analytics dashboards are now available on the app level of the platform. This will enable you to create a dashboard that compares key metrics from one or more applications. The dashboard is available from your toolbar:

Adding, editing and deleting widgets
You can add new widgets to the dashboard by clicking the
Add Widget
button.
First select the application you want metrics from in the
Projects
dropdown. The list below will then be populated with the available items. Select the metric you want and chose how you want it visualized.
You select the period you want to see from the
Set filter
section. The filters available are
Latest
and
Previous
Latest will select the chosen time period ending with today
Previous will select the chosen time period ending with today - (the chosen period). This will enable you to do side by side comparison of two

consecutive

periods
When you want to edit or delete a widget just hover your mouse above it and controls will appear in the upper right corner. Clicking the garbage can will delete the widget. Clicking the pencil will open an edit window for that particular widget.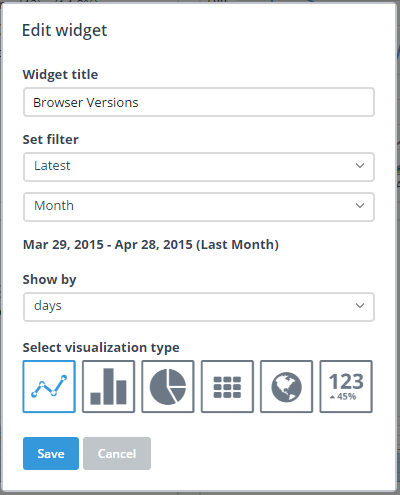 From this dialog you are able to change the selections you made when adding the widget. You are not able to change what data the widget is showing. To do that you need to add a new widget and delete the old one.
Rearranging widgets
You can arrange the widgets on your dashboard any way you like. To rearrange your widgets click on the
Rearrange
button. To move a widget to a new position grab it with your mouse and move it. If you want to change the size of the widget then grab the bottom right corner and drag. Widgets support different sizes depending on the type. So if you can drag any longer it is because the widget can't get smaller or larger.