It's a familiar story by this time. The solo developer works for a year on a beautiful game or app, releases it to the app stores and...nothing. Downloads are elusive, reviews are spotty or nonexistent, the app is buried in a sea of Flappy Bird clones, Candy Crush spinoffs, and Korean sticker-sharing chat apps.
For every Dong Nguyen, the developer of Flappy Bird, there are thousands of small development shops, indie developers, hobbyists, and optimists who are looking to make the next viral hit. The odds of finding success in this mature mobile apps market seem slimmer than a snowball's...well, you get my drift. You can boost your chances of success a little bit more, however, if you have a good app store optimization (ASO) strategy.
SEO for mobile apps
Think of ASO as SEO for mobile apps. It includes the entire package that you leverage to promote your app: both what you include in the app store listing itself including the keywords, title, app icon, app screenshots, as well as all the peripheral marketing you do to promote it and drive people towards that elusive download.
The bottom line is that you may have a fantastic product, but without the ability to search and find it, people will simply not be able to download it and all your work will be in vain. Getting your ASO strategy right can be really tricky, but there are some things you can do to make your app more discoverable in the various app stores, including the Apple Store and Google Play.
For this article, I interviewed Steve Young, founder of AppMasters.co which hosts the popular podcast, Mobile App Chat and a successful independent developer of mobile apps who has built a business on helping developers craft their ASO strategies. Steve was kind enough to talk to me about some tips and tricks that can help you navigate this somewhat opaque system.
Focusing on ASO
"I wouldn't call myself a specialist," Steve notes.
He has been fascinated by app marketing because he has been in this space as a developer since 2010-2011 even though he has a marketing background. The first app he developed, ABC-a-GoGo, was a surprise hit, earning thousands of downloads.
Encouraged by this early success, Steve started creating more apps, including educational games and utility apps like oSnap, but when they didn't have the same success he set out to figure out why not.
"I started talking to other developers to find out their secrets for their success, starting a podcast to conduct interviews." It soon became clear that an app's success largely hinged on its discoverability. If you don't want to build your apps solely for the love of it, read on!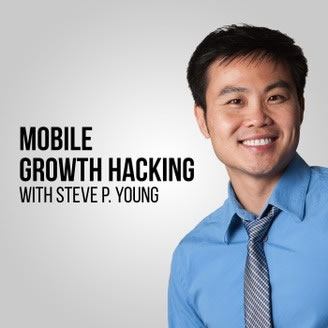 1. Know where this field is going
It's no secret that the app marketplaces are quite mature. Having a solid ASO strategy behind each app is no longer an option - it is a basic requirement. Three major areas that you can target to raise your app's profile include:
PR;
CPI (Cost-per-Install) campaigns, such as Twitter ads or Facebook campaigns;
Content marketing such as personal blogs.
Content marketing is further broken down into paid media (such as Facebook promotions), earned media (such as writeups by TechCrunch), and owned media (your own personal web assets). However, according to Steve, "App marketing is going to be more focused on PR". He outlines a few strategies to get your app in front of the right people.
"Find a good blogger. They are less time sensitive than the big professional media outlets. Find your audience." If you're writing kids' apps for iOS, for example, talk to the iPad Dad or iPhone Mom and Moms with Apps. Any kind of marketing is about building relationships with audience leaders and your audience itself, so take the time to cultivate them. A solid portfolio of emailable lists for your apps alongside a good relationship with 5-10 blogs that you really like will go farther than asking for paid reviews.
A recipe for success: It's sometimes the little things that can make a big difference. When creating an email to send to a list promoting your app, make sure to include the recipient's first name in the subject line. One to two weeks before your app release date, email your lists using words like 'early scoop' and 'first look', sending a press kit, bulleted feature list, and a promo code created in the app store so users can get a sneak peek. Everybody likes a sneak peek!
2. Understand Platform differences
In terms of the work you can do in the actual app stores, there are few real differences between iOS and Google Play to make your app more searchable. "The fundamentals are the same. Find the right keywords with low competition," says Steve. That means that if your app can rank high in a tool like SensorTower, SearchMan or App Annie's SEO analysis, it will be more discoverable.
Steve outlines the major differences between the platforms and gives tips on how to leverage them:
Google Play:
The app name is limited to 25 characters;
Keyword optimization focus should be on the description;
Organically repeat the name 3-5 times in the description;
Integrate Google Plus;
When linking to the app listing on Google Play, put keywords within the link itself.
Apple Store:
If using IAP (in-app purchase) make sure to name the IAP something meaningful to leverage keywords in this area;
Make sure to have at least five good reviews;
Make your app title very keyword-rich;
Each time you update your apps, review your keywords.
For both stores, we are unable to draw a conclusion that having an app video is attractive or repellant. Steve noted that some users seem to hesitate to download an app once the video is viewed, almost as if the allotted amount of attention is used up by the video, rather than the app itself.
In addition, new app extensions such as the Apple Watch extension have yet to prove their benefit to the overall app ecosystem. "Remember, Apple does what it wants!" - they may or may not choose to highlight apps with watch extensions in the future. Apple is also stopping their former practice of highighting new apps in their search results, so we can no longer count on the usual 'new app bump' that could help onboard early users. We can only try to adapt as the marketplace changes.
3. Manage Your Keywords
A combination of tools used judiciously can help the user seek that great combination of non-competitive, highly-ranked keywords. Don't trust to chance - as I did - when I chose the combination 'faux finish' for my Roomalyzr room painting app. This app got a surprising number of downloads due to the non-competitive keyword 'faux'. It's better to do your research ahead of time and plan for success, rather than being unprepared!
Steve recommends the use of onelook.com to help you choose good, unique keywords for your app. Use its 'reverse lookup' feature to find alternate keywords. For example, inputting 'faux finish' got several interesting alternatives: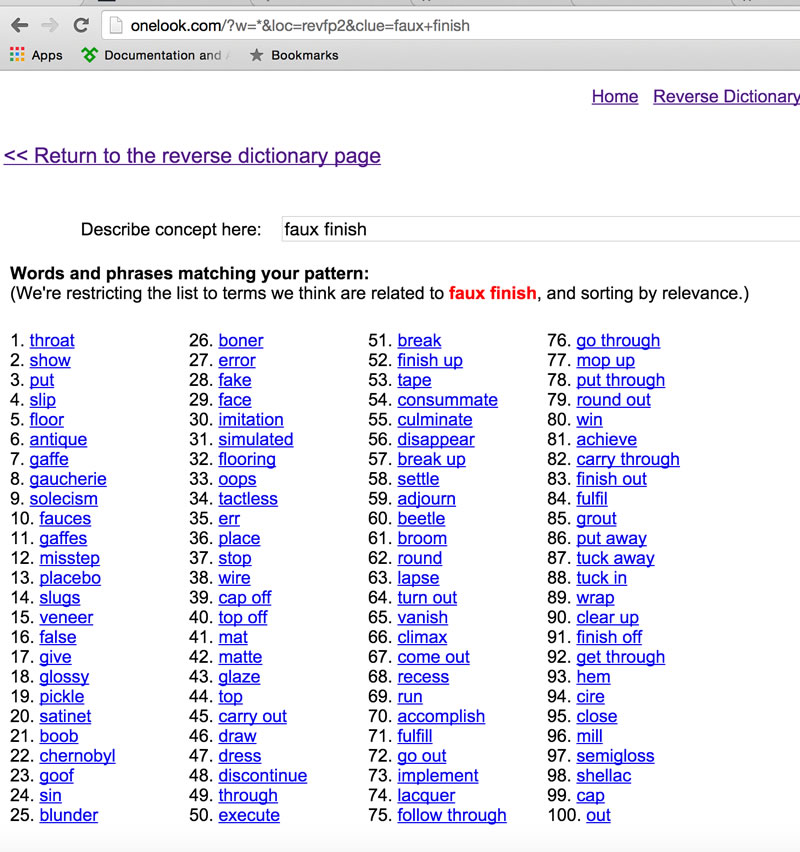 Take some of these keywords and input them into App Annie's Keyword search tool. The keyword 'veneer', for example, has a low competitivity rating (the number on the right, which indicates how many apps include word in their keyword or title). Based on this low number, 'veneer' might be a good addition to the keywords or title:

4. Stay On Top of a Changing Marketplace
According to Steve, "the most effective change a developer can make in the app store listing is to revamp keywords frequently. Change up the app name, keywords, icon, and screenshots every time you update your app." Keeping an app competitive takes time and patience. You need to keep on top of the changing market, and probably should put yourself on an app update schedule if you want to ensure continued downloads of your work.
5. Avoid Common Mistakes
The most common mistakes a developer can make when listing their app include:
Putting words like 'app' or 'category' in your keyword or app name.
Including useless keywords or those that have too much competition (do your homework!).
Putting spaces after commas in the Apple keywords. This wastes precious space, as you only have 100 characters!
Doubling title and keyword words. Make your title and keywords somewhat distinct. This is an opportunity to include as many good solid searchable keywords as you can.
ASO FTW!
We are engineers. As Steve says, "We like to figure things out!". Focus on the app name and keywords in your next app release. If it doesn't work out and something seems off with your downloads, try a different combination. Good luck!
Download Steve's most recent book on ASO and app marketing at appmasters.co