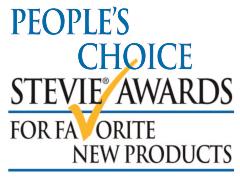 Telerik is nominated for Favorite New Products in two categories for the People's Choice Stevie awards: Mobile Development Solution and Content Management Solution. Time to vote!

Telerik won two awards at the American Business Awards in 2013. Telerik® AppBuilder (then Icenium) was a Silver Stevie Winner, and Telerik® Sitefinity™ CMS was a Gold winner. Telerik won two more awards at the American Stevies in 2014: Telerik® Kendo UI® framework got the Gold, and Telerik® DevCraft™ suite got the Silver.
We would like to thank all of you–our clients, supporters and true fans. You are the ones that make Telerik a top-notch company!
Now, for a third consecutive year, we are nominated in two categories:
Mobile Development Solution: Telerik Platform
Content Management Solution: Telerik Sitefinity CMS
This year, the votes are really crucial; a minimum number of votes is required for a nomination to even be considered. We need your help! Please support Telerik one more time and vote here.
Note: For Telerik Platform, choose the "Software–Mobile" category, and for Sitefinity CMS, choose the "Software-Content Mgmt" category.
Thank you for helping Telerik stay awesome!