Based on your feedback, the second release of Telerik Test Studio for 2018 will come with translators for Kendo UI for jQuery and Angular widgets for Google Chrome and Mozilla Firefox. Read on for the full details of the R2 2018 release.
The next release of Telerik Test Studio is just around the corner, and I wanted to give you a sneak peek at one of the new features that will be gracing our reporting suites—translators for Kendo UI for jQuery and Angular widgets for Chrome and Firefox.
With R2 2018, Test Studio's Kendo UI translators will be available not only in Internet Explorer, but also in Chrome and Firefox, giving you more details and options for quick steps, events and data verification of Kendo UI controls. In addition to the jQuery translators, we will be also supporting Kendo UI for Angular controls.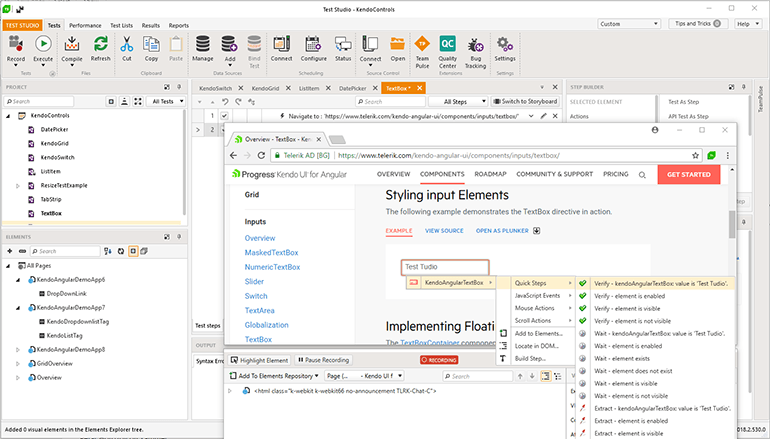 In addition to this great feature, we will release CSS selectors for element detection, API testing integration in web tests and custom dynamic targets in load testing. With this release, the most complex load testing scenarios can be done easily.
What Is Telerik Test Studio?
If you haven't tried Telerik Test Studio, there's no better time than now! Test Studio is a complete test automation solution for functional, performance, load and API testing. You can craft automated tests for the most current technologies, including Angular, React, WPF, MVC, AJAX, RESTful and more. With Test Studio, you can build and continuously execute mobile tests for iOS and Android with ease. Take advantage of ultimate support for Telerik UI and Kendo UI widgets.
Conclusion
We are constantly trying to improve and add new, exciting features to Telerik Test Studio, and believe that the release of Kendo UI translators is yet another step in this direction. We are very grateful for your constant support throughout this process—we couldn't have done it without you!
We always appreciate any feedback we can get, so don't be shy. Over the years, we've found our users to be our best advisers.
Of course, this is far from everything that we will be shipping on June 5 with the Telerik Test Studio R2 2018 release, so be on the lookout and make sure to download the latest version when it hits!