Steve did great presentations today about "Daily Scrum" and "Tools and Agile Teams". Since he is always coding in his presentations using the latest technologies and releases he made it to use VS2010 with OpenAccess. Watch his Blog this week about this topic.
As expected, we did run out of our famous .NET Ninja T-Shirts today but had some Geekette T-Shirts left. So people started to get used to the new look: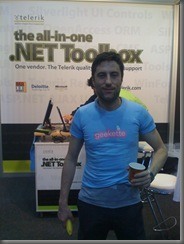 Thanks so far to the more than 1000 people having visited our booth.
2 days to go …