The first day at TechEd in Berlin has been a very good one. Thanks to the 400 people coming by enjoying our demos and T-Shirts.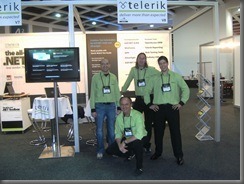 If you are there, don't miss to visit us and meet our developers for a demo or a tech talk.
Tomorrow at 2.45 pm you can see Telerik OpenAccess ORM working with SQL Azure. This will be demonstrated live in the VSIP theatre. Afterwards you can win a Premium Collection at our booth.
4 days to go …