Silverlight platform is getting more mature, the adoption rate is constantly raising and at the same time Page Brooks and Dave Campbell, together with some of the Silverlight community leaders and Microsoft MVPs have started a control builder contest. Check out the contest website to see the rules, prizes and how to register - http://gosilverlight.org/.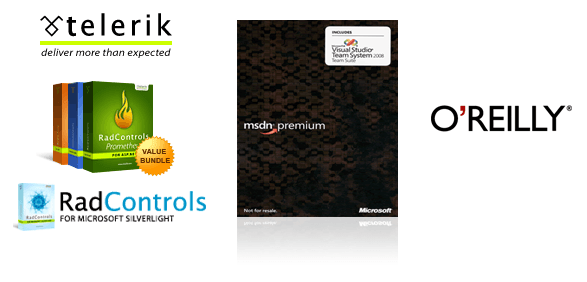 As we are deeply involved with the Silverlight platform and community, we decided to make our contribution to the contest by giving our most valued license control bundle to all the winners!!!
The bundle includes "ASP.NET AJAX + WinForms + Telerik Reporting" controls. The license will also automatically give you the Silverlight controls once they are officially released (which will happen till the end of this summer).
The first place winner will also receive "1-Year MSDN Premimum Subscription" and "one book from the entire O'Reilly catalog". What more can you possible need to build a cool Silverlight application :)
Meanwhile - check out our current progress on building the Silverlight controls suite. Next week we will release a CTP2 of the suite with a couple of the most requested controls including RadWindow, RadComboBox, and ... well .. just wait and see ;-)