Our developer community is pretty awesome - both in person and online. Together, developers can participate, collaborate, foster a network and learn from each other. Perhaps you are inspired to give back to the community and organize a tech event for developers.
In-person tech events for developers come in many different forms such as monthly user group meetings or meetups, annual conferences or a one-off hackathon, to name a few possibilities. The scale of the tech event varies widely based on lots of factors - number of attendees, venue, speakers and the logistics to pull it all together. In most cases, other than perhaps really small endeavors, guess what you need to run a successful tech event? Yep, cold hard cash.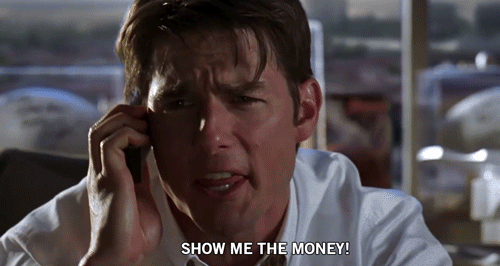 To raise the necessary money for your event, you'll likely have to go get some sponsorships. Seeking successful sponsorships can be an exercise of patience, especially without the correct strategies - are you talking to the right people about the right things? This article aims to demystify some of myths about chasing down sponsorships for tech events - the who, the why and the how.
Sponsorship Sources
First, let's talk about all the potential sponsors that could help with your event - the "who" part of the equation. Remember, not every sponsor fits every event - you have to put yourself in their shoes to find the right fit. The bottomline is - don't hesitate to ask.
For Beer City Code, we have a somewhat unique sponsorship model. We noticed how our sponsors wanted different things out of their sponsorship of the event, so we made a point system. Sponsors get different points for different levels of support which they can use to 'buy' the things they want--booths, room naming rights, addressing attendees, etc. It takes a little more explaining the first time, but they've told us that they really like it.

Jonathan Tower, organizer of Beer City Code
Software giants
These are companies like Microsoft, Google, Apple, IBM, SalesForce = big software companies of the world, who make developer platforms and infrastructure for running software businesses.
Tech companies
These are the next tier software companies that makes tools and frameworks which augment the developer experience. Think, for example, Progress, Infragistics, DevExpress, SyncFusion and other similar product companies.
Employers
Companies that are local or near your event are usually good candidates to ask for sponsorship. These could be employers across of variety of industries looking for fresh talent to join their workforce.
Recruiters
Recruitment or staff augmentation companies can also good targets to ask for sponsorships. They are usually on the lookout for developers who are eager to learn new technologies - something that your tech event is offering.
Training Companies
There are lots of companies that focus on hardcore developer training these days. These include companies that are more global in scope (ex. Pluralsight, Lynda) or more regional/local developer training companies or bootcamps (ex. General Assembly, App Academy, Flatiron School). These are great potential candidates to ask for sponsorship, since they are interested in the very thing your event is about - developer education.
Incubators
Lots of cities have vested interests in funding the software startup scene - what better way to fuel innovation than to support the entrepreneurial spirit in software development. These incubators are always looking for people with fresh ideas and likely to help support your event to connect with potential entrepreneurs.
Venue Stakeholders
Is your tech event being hosted at a college, company property, movie theater or conference center? Usually the stakeholders in the hosting venue are more than happy to get their word out there and your successful event offers the perfect commercial.
Focus groups
There may be local sponsored focus groups around your event - they may have a vested interest in a specific product and your event offers developer ears. Examples could be focus groups for specific IoT or AR/VR products.
Attendees
This is often neglected, but have you considered your event attendees as sponsorship sources? Many may have their own businesses and are using your event as a networking opportunity - they may be more than game to get their name out there a little more, if there is an appropriate level of sponsorship available.
Value Proposition
Now that we have talked about some of the potential sponsorship sources, let's tackle the hard question - the "why?" What's in it for someone to invest in your tech event? It is squarely your responsibility to show the value your event offers and to match the proposition with what a sponsor may be looking for.
Put your in the shoes of the sponsors. There are hundreds of events around the country (not to mention the world). It is not a privilege to sponsor our event - it is a carefully considered business decision. What do sponsors want? They want to get their products and services in front of people who could potentially BUY those products and services. That might mean foot traffic, a sponsor track for presentations, access to opt-in attendee lists, and more. Want to be successful at sponsorships? Ask sponsors what goals they are looking to achieve with an event. Tailor your offerings to match the goals.

Kevin Griffin, organizer of RevolutionConf
Tech adoption
Most software companies that make products want developers to adopt their new technology. But this can be a tricky job - developers are often known to be cynical and suspect of new technology, unless they see something in action. Developer events are often opportunities for tech companies to have a booth presence and showcase their solutions in action directly to their developer audiences.
Marketing
Your sponsors may have existing or new tech products that they want to show off to developers. Marketing commercial products to developers can again be dicey business - companies often adopt subtle ways, in-person conversations and like showing off success stories or integrations. As the event organizer, you should allow sponsors to be innovative with their presence - without being intrusive to others.
Exposure
Most new software products or tech companies often just want exposure to their direct customer - the developers. As the event organizer, you should be flexible in offering options to your sponsors - may be one could sponsor a side event, provide strong branding in sections of the venue, have a big digital presence or any other way they can get exposure to developers.
Recruitment
Companies are often looking to hire sharp developers who are eager to learn - and the fact that developers are coming to your tech event shows their hunger to stay on the cutting edge. As an event organizer, you should facilitate connecting developers with potential recruiters - flip charts and side-rooms help.
Goodwill
An incentive for companies to sponsor tech events is often to earn developer goodwill - it clearly demonstrates that they are invested in the community. Event organizers should allow sponsors to spread the word and promote the event in their own way. In turn, you as the event organizer, should do your best to highlight all your precious sponsors - web presence, newsletters, branding - you name it.
Feedback
Companies sponsoring tech events are often interested in direct communication with their customers and collecting feedback on products. Event organizers should facilitate as much networking and open communication as possible - plenty of hallway space and gaps between sessions help.
Caveats
Now let's talk about the "how?" What are some strategies and challenges to keep in mind as you seek sponsorships for your tech event. Your job is to make your event as enticing as possible and highlight key benefits to sponsors. Here are some potential challenges to keep in mind as you seek sponsorships:
Commercialization
Is your event looking a little too commercial? While getting a lot of sponsorships can be a great problem to have, one has to remember the anti-marketing mindset many developers share. While you want to cater to sponsors to help them shine, it should be within the realms of what is considered ethical - no one enjoys a straight up info-commercial. It is your job to balance free reign and maintaining a level playing field for everyone.
The sponsorship prospectus
Your hunt for sponsorships begins with a solid sponsorship prospectus - it is your one opportunity to sell the value your event provides. You should assume that folks will not even look at your website, social presence or other event logistics - the sponsorship prospectus should be the one piece of document that allows prospective sponsors to decide if they want in. Often professional writing help may be sought in coming up with a great prospectus - you want to oversell your event while maintaining a genuine tone. Show sponsors the true value your event brings to developers and the community - highlight event details, speakers, tracks and attendee demographics. You should demonstrate that you have set sponsorship levels, but happy to craft custom sponsorship opportunities for those thinking outside the box.
Pricing sponsorship packages
Pricing your sponsorship levels can be a tricky thing - you may have to play a balancing act between being greedy and cheap. Take a look at your overall event budget and decide how much money you need to raise through sponsorships - then divvy it up into sponsorship levels with a conservative estimate of the number of sponsors you are likely to get. You should be very clear as to what benefits each sponsorship level brings and these should be non-negotiable to keep things consistent for all. However, one should be open to sponsors wanting to come up with innovative ways to help your event, outside of the defined sponsorship levels.
Access to lists
One of murky waters for event organizers to navigate through is balancing the protection of information with sponsor's demands. One very lucrative option for most sponsors is gaining access to the list of all event attendees - this can be an effective means for marketing, screening and recruitment later on. Event organizers should be careful with such demands - the list of attendees/speakers is critical to the repeated success of the event. For one, you may be sharing private information of users without their consent and exposing them to potential marketing spam.
This is not to mean that attendee information cannot ever be shared with sponsors - but it is to be done with careful analysis of benefits and after proper user consent. Instead of directly offering attendee lists, many events make it easy for attendees to share their information with sponsors (via NFC-enables tags or even just QR codes). This allows sponsors to easily collect attendee details via an opt-in system, perhaps in exchange for a raffle.
Numbers and Geography
As you are seeking sponsorship for your tech events, there are several factors that will weigh down on you. If your event does not get a certain number of attendees, some sponsors will just not be interested - nothing personal, but it just does not make financial sense for them. Then there is such a thing as over-doing a good thing - does your local area have too many tech events too close to each other leading to fatigue? You have to realize that other events are likely hitting up the same sponsorship sources and stretching them thin. Are you in a locale where there are just not enough developer jobs or tech companies? These may be reasons that can make your hunt for securing sponsorships that much harder. So the bottom line is - do your diligent research to make sure your tech event is timed well and hosted comfortably for all stakeholders involved.
Conflict of interest
We're getting into some legalities here, but conflicts of interest is something you will have to keep in mind. Do you work for or favor a certain tech company that is a sponsor and are you shutting out a competitor? Are you allowing one sponsor to have extra favors over others? Are the sponsor info-commercials likely to sway the developers minds strongly towards one technical direction? Bottomline is - you do not want to take sides and want to offer a level playing field for all at your tech event.
Code of conduct
Let's face it - there is some inequality in our tech industry. And alcohol at social events can often bring out the worst in us. As an event organizer, you cannot control the behavior of other adults, but you can lay down in clear terms what is acceptable and what is not. In a way, this is protecting yourself from liability in case there is legality involved from any unforeseeable incident. Your sponsors would also appreciate you having a code of conduct - everyone likes to come out clean, when things go south and they are not involved. Do your part to uphold equality and good moral behavior.
Insurance
Is your tech event ready for extremes? What if the event has to be cancelled at the last minute? What if there is a fire and loss of property? Again, most sponsors would like to minimize liability and recover assets in case of extreme situations. Depending on the size of your event, you should consider getting some insurance to cover factors that are far beyond your control.
Conclusion
You are busy for sure, especially if you are putting together a tech event. But as you seek sponsorship for your event, just skim through the topics discussed here - it is all about strategy. Securing successful sponsorship often means showing the right value to the right people. And kudos to you for putting together the next UG meetup, the next big conference or hackathon - the developer community thanks you. Best of luck!