At Progress, we love giving back to society and helping those in need. We do it in different ways: by sharing our knowledge and experience in our community but also by embracing noble causes and contributing to various charitable initiatives. A dear initiative we are fond of is SOS Children's Villages, the world's largest charity working with orphaned and abandoned children. We've supported its Bulgarian branch for five years now, with our help going beyond pure financial contribution. We're personally engaged with the two foster families that we support and are happy to be part of their lives.
A Special Children's Day in the Office
What a better time to win more friends of SOS Children's Villages than on International Children's Day? On June 1-2, we welcomed to our office in Sofia representatives of the initiative who presented their special program for individual donors, SOS Friend (you can see a few pictures below). Through small monthly donations individual donors can contribute to making the lives of underprivileged kids better. According to SOS Children's Villages website, this type of funding provides long-term high-quality care for 500 underprivileged kids in Bulgaria. Almost 50 colleagues became individual donors and even more had already joined the program in its previous campaigns in our office. Joining the SOS Friend club means not only providing financial support but also accompanying the kids to their future life.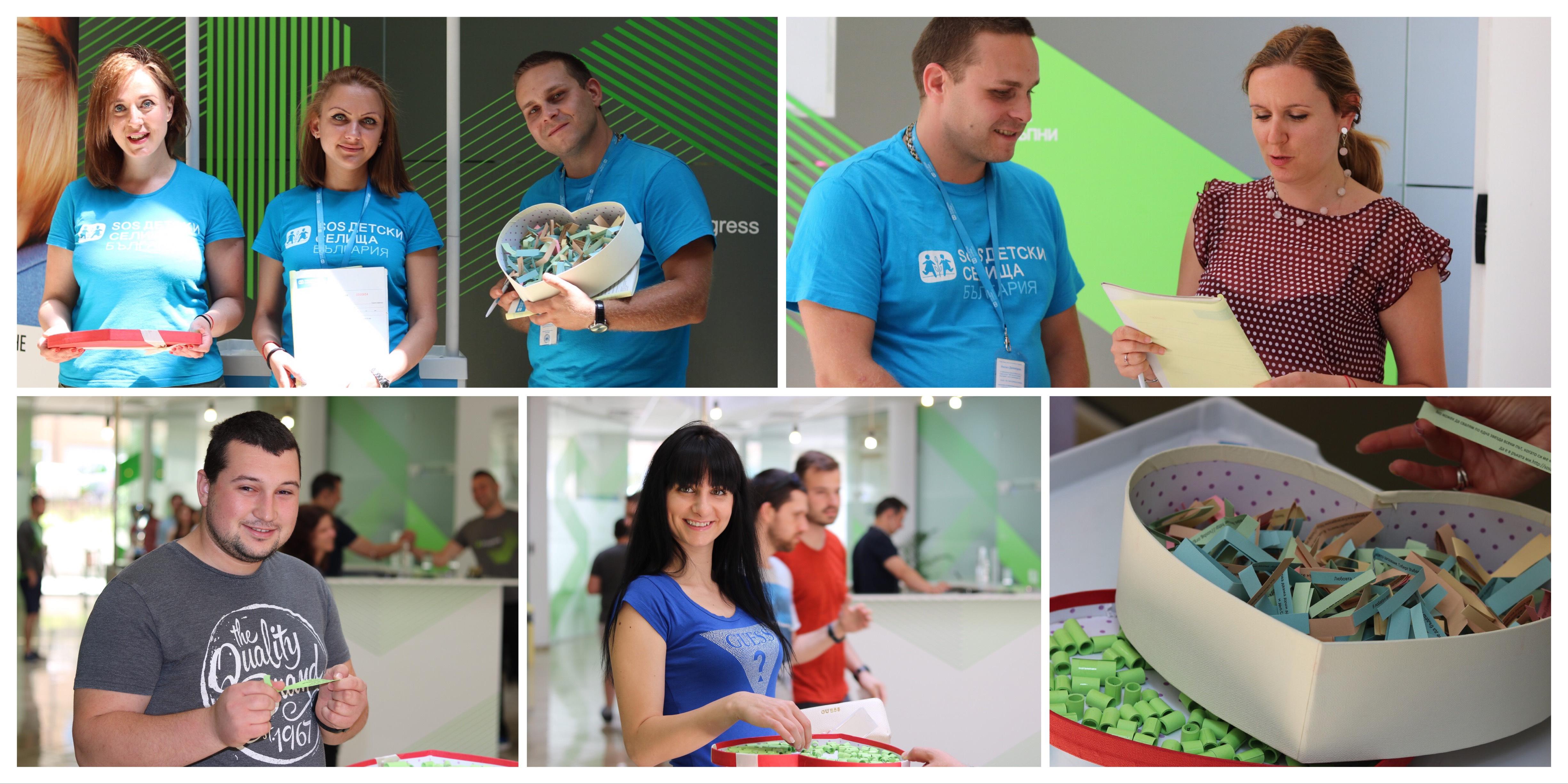 More than a Friend
Every year, on several occasions, we get together with the families we support to socialize and have fun. For example, last year, around the Christmas holidays, we had one of the families visit us in our office for a festive lunch. We also played games, talked about the kids' dreams and successes and exchanged gifts. The previous summer, we got together over a barbecue lunch close to their house and had lots of fun playing volleyball, soccer and badminton. With every past meeting, we see how the kids have changed and made the next stroll to becoming good and responsible adults. We're excited to see them happy about the positive changes in their lives - from new friends to first jobs—and feel privileged to be by them.
Most valuable Corporate Partner
We are proud to share that at the beginning of the year, SOS Children's Villages in Bulgaria presented us with an award for Most Valuable Corporate Partner. Needless to say, we were more than thrilled to receive the recognition because nothing compares to giving meaning to someone else's life and making it fuller.
In conclusion, we want to leave with a quote from the lucky charms that the SOS Children's Villages representatives gave away during the campaign on June 1-2: "If I could take down a star any time you've made me smile, I'd have the entire sky in my arms." We're tremendously happy to be part of the initiative's big family and contribute to making its kids' lives better.