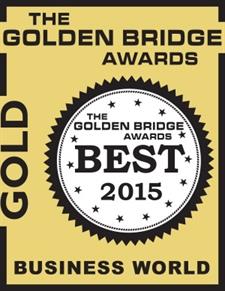 We are excited to share that Telerik Platform has just been named a Gold Winner for Innovations in Information Technology at the Golden Bridge Awards. This makes three winning years in a row for us, with Telerik® Kendo UI® and Telerik® Sitefinity™ winning in 2014 and 2013 respectively.
The Golden Bridge Business awards were created to honor and generate industry-wide recognition of the achievements and positive contributions of organizations and businesses worldwide in every area. Past attendees have called it the Oscars of the business world.
Progress also won seven Visual Studio Magazine's Reader's Choice Awards—three Gold, three Silver and one Bronze. These awards were for Kendo UI, Telerik® DevCraft UI, Telerik® Fiddler and Telerik Platform in different categories.
The 2015 winners were chosen by the readers of Visual Studio Magazine and honor the best Visual Studio-related tools and services in 31 categories. The awards are based on the responses of hundreds of Visual Studio Magazine subscribers, so this is incredible recognition directly from developers.
And last but not least, Progress is ranked in the Computable 100 for most powerful ICT companies in the Netherlands. We are included in five Top 100 lists:
Companies with the highest knowledge level
Most innovative companies
Most loved business partners
Companies with the best image
Most loved workplace
Rankings come from financial research and a survey by Computable amongst people working in IT or for an IT department such as ICT managers, developers and architects.
We want to give a big thank you to our community. We're proud to be recognized as your partners, and you made us feel like a real Oscar winners!
We're honored by the results, but we're not done innovating—not by a longshot. Tune into our upcoming webinar on the future of mobile apps to get a glimpse into some of what's coming next.