Catch up with what's latest in the Fiddler family of products on .NET Rocks.
Carl Franklin and Richard Campbell host .NET Rocks—1800+ podcast episodes later, .NET Rocks continues to educate and entertain developers on latest technology trends. The most recent .NET Rocks show dived into all things Fiddler—the history, evolution and what lies ahead for the popular network debugging tool.
💜 .NET Rocks
To say .NET Rocks has been one of the most popular podcasts would be an understatement—so many developers grew up with .NET Rocks. The late night drives from a customer site/user group meeting, the early morning walks/jogs, the working lunches—so many of us have had .NET Rocks playing in our ears over the years. With production always being top notch, .NET Rocks has informed, educated and entertained developers for the past two decades. Cheers, Carl and Richard, for years of knowledge bites and chuckles.
A recent .NET Rocks episode had Rosen Vladimirov and yours truly on to talk about Fiddler—another thing that so many developers have grown up with. From humble beginnings, Fiddler has evolved into a big family of products serving various users/teams with differing needs. While the popularity of Fiddler has meant developers have had Fiddler as a default part of their development toolset, recent Fiddler updates embrace latest network technologies and open up the tooling to QA/Support/end users. The .NET Rocks show was a great discussion on Fiddler basics to the current reality and what the future holds for a beloved tool—give it a listen, people.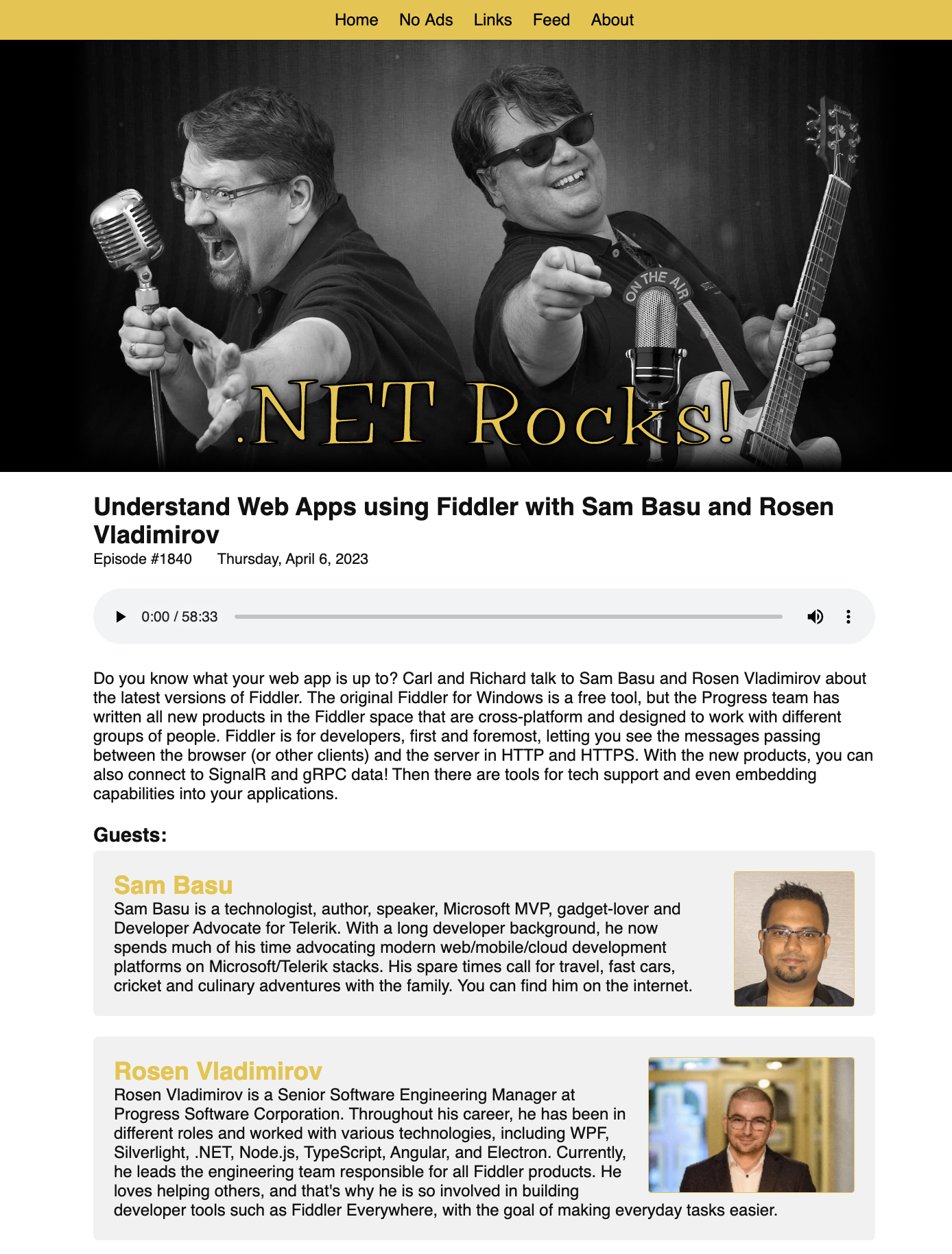 The Elevator Pitch
Turns out, you and me happen to be in Dubai at the same time. We're taking the elevators up at the Burj Khalifa—the tallest building in the world. At the ground floor, you run into me—a long time Fiddler user and aficionado. You've heard about Fiddler, but haven't tried things as of late. We're headed to the top of the Burj and I have an elevator ride to convince you to try Fiddler. Ask me anything. However, I am eating a yummy sandwich on the way up, so my responses will be super short in between bites. Let's go!
Q: What is Fiddler exactly?
A: Fiddler is a popular network proxy with endless debugging and troubleshooting capabilities.
Q: I've heard Fiddler is not just one thing any more?
A: Yes, Fiddler is a family—Fiddler Everywhere, Fiddler Classic, Fiddler Jam, Fiddler Cap and Fiddler Core.
Q: I'm told Fiddler has always worked great on Windows.
A: Yup, it's called Fiddler Classic—no one is moving your cheese.
Q: Does Fiddler Everywhere really work everywhere?
A: Yes, cross-platform with consistent UX on macOS, Windows and Linux.
Q: What are some things developers like in Fiddler Everywhere?
A: Choreographed Filtering/Searching of network traffic, nimble API Composer and robust Rule Builder.
Q: What's Fiddler Jam exactly?
A: Chromium-based browser extension—helps triage user issues by capturing traffic details.
Q: Can I include the power of Fiddler engine inside my apps?
A: Yup, Fiddler Core is an embeddable .NET library.
Q: Anything new with HTTP these days?
A: Fiddler allows for capture/inspection of HTTP/HTTPS traffic with latest HTTP2 support.
Q: What's the latest in the network layer?
A: Fiddler Everywhere 4.2 now supports TLS 1.3 encryption protocol.
Q: What if I'm dealing with low-level bidirectional traffic?
A: Fiddler has baked in support for WebSockets—brings your AI chat apps.
Q: Will Fiddler work if I'm building MicroServices?
A: Latest Fiddler Everywhere has beta support for capture/inspection of gRPC traffic.
Q: Unlike web, native mobile/desktop apps are hard to test.
A: Fiddler can capture traffic for iOS/Android/Windows/macOS—essentially any native app through configured proxy.
Q: How can teams use Fiddler?
A: Sessions, Requests, Rules and Jam captures can all be shared for ultimate productivity.
Q: Looks like Fiddler is solid and getting better each release?
A: Yup. Fiddler is used by hundred of thousands of developers/enterprises—you should give it a spin.
Conclusion
Fiddler promotes a holistic debugging and troubleshooting approach that is radically intuitive—for developers, QA testers, support engineers and users. No matter what the app or platform, nobody should be in doubt as to what's happening in the network layer—the Fiddler family of products can help.
Looks like we've reached the top floor of the Burj Khalifa. I see a smile on your face—looks like you're convinced and ready to try out Fiddler. I also see a lounge—let's go have a drink and explore the views of possibilities. Ciao.