It is our pleasure to present you the much improved and completely new RadDock for WinForms (Q2 2009 Beta). You can find detailed information on what is new and improved here: RadDock for WinForms Q2 2009 Beta.Project upgrading instructions are also included.
The beta is available for download from your Telerik accounts --> Downloads (or Free Trials for the trial version) --> RadControls for WinForms --> Q2 2009 Beta Download:
You can view a quick demo (source code included) of the new RadDock in action in the specially prepared Bug Tracker Demo, which you will find attached to this post: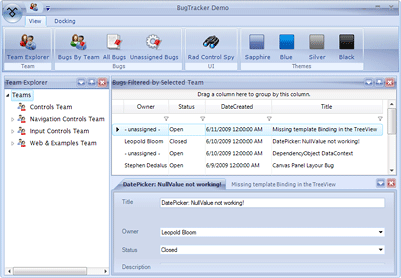 We are eager to get your feedback on the RadDock beta, so please use the
WinForms Beta Forum
to send us your comments.
Enjoy!
All the best,
The Telerik Team