This question is locked. New answers and comments are not allowed.

Telerik Admin
Top achievements
Rank 1
Telerik Scheduler for Silverlight Public Beta
Download Source
Following the release plan of RadScheduler for Silverlight we are proud to take you one step further with the public RadScheduler for Silverlight Beta. A week ago we launched a private build by sending it only to the beta testers that were willing to take part in this early beta release. Now that we managed to further improve the control, we are launching this public beta featuring the following major functionalities:
Day/Week/Month View
Edit Forms
Recurring Appointments and Exceptions
Localization support
Built-in Dialogs
Drag & Drop and Resizing of appointments
Office Black theme
Ability for customizing appointments and edit dialog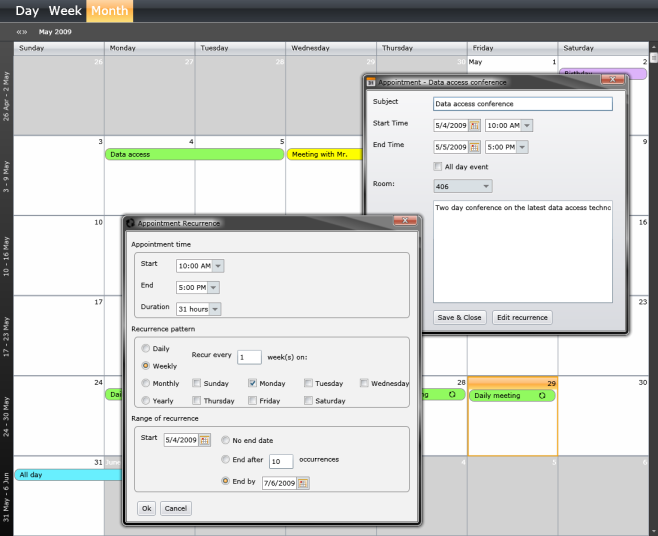 Other major features to come with the official Q2 2009 release are Import/Export to/from Outlook and 2 more themes (Vista and Summer), including several color variations.
You can see a live example of RadScheduler for Silverlight at:
http://demos.telerik.com/silverlight/radschedulerbeta
The source code of the online example has been attached to this message.
We are eager to receive your feedback and thoughts.
81 Answers
, 1 is accepted