The One UI Library You Need
Building modern, professional-looking UI for business applications is hard work. Make it easy and fast with the Telerik UI component libraries and data visualization solutions for WinUI, WPF, WinForms and Xamarin.
Always in step with the rapidly evolving .NET ecosystem, our Telerik R3 2020 release is here to help you keep up with the latest innovations in creating stunning desktop and mobile apps.
Telerik UI for Xamarin ships Blazor Bindings support for AutoCompleteView and DataGrid controls.
Telerik UI for WPF and WinForms release support for the latest preview of .NET 5, along with the most requested components and many improvements across both libraries.
Watch the recording of the Telerik Desktop and Mobile products R3 2020 release webinar which took place on Thursday, October 1, 2020 to see the major updates in detail and the recording of the Twitch demo session to see the newly released components and features in action and get ideas on how to use them in your Xamarin, WPF, WinForms and WinUI projects.
Highlights We'll Cover During the Live Webinar and Twitch Session:
Telerik UI for Xamarin
New components: Combobox, RichTextBox
Blazor Bindings support for AutoCompleteView and DataGrid controls
New Calendar features: Add and edit appointments in the calendar UI
New PdfViewer feature: Search PDF documents for an improved mobile users experience
Fully functional Xamarin sample applications: CRM, ERP, ToDo and TagIt
Telerik UI for WPF
Telerik UI for WPF ships with support for the latest preview of .NET 5
New SearchTextBox feature: Support auto-filtering search results in real time
Dock control enhancements: New navigation commands, keyboard and mouse shortcuts, such as CTRL+Tab for switching between tabs and Ctrl+F7 for navigating
New Slider feature: Multiple thumbs support
New TimeSpanPicker feature: Set TimeSpan from text input, which the control will parse to a valid TimeSpan value
New WordsProcessing feature: Support for content controls
New Office 2019 theme: Keep your apps in line with the latest trends of UI and UX with a brand new Office 2019 theme, available in all three colors variations—Colorful, Black and Dark Gray
Telerik UI for WinForms
Telerik UI for WinForms ships with support for latest preview of .NET 5
Design Time Support for .NET 5: Design time support for all Telerik UI for WinForms controls enables for building .NET applications right in the designer
New TaskDialog control: Theme table and easily customizable alternative to the Windows TaskDialog
Vector images themes support: More themes will support vector images
Telerik UI for WinUI
New components: Chart, Gauges, BulletGraph
The Speakers: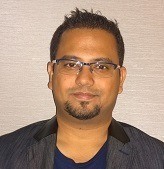 Sam Basu
Senior Developer Advocate, Progress
Sam Basu is a technologist, author, speaker, Microsoft MVP, gadget lover and Progress Developer Advocate for Telerik products. With a long developer background, he now spends much of his time advocating modern web/mobile/cloud development platforms on Microsoft/Telerik technology stacks. His spare times call for travel, fast cars, cricket and culinary adventures with the family.