What's in the package?
The CAB kit contains all needed wrappers to start using UI for WinForms with the CAB framework right away. It also comes with documentation and a reference application to increase the learning curve and to help you quickly get you up to speed.
Supported Telerik components
RadTreeView
RadDock
RadMenu
RadPageView
RadForm
RadCommandBar
RadRibbonBar
RadStatusStrip
Workspaces
RadDockWorkspace
RadPageViewPageWorkspace
RadFormMdiWorkspace
RadTabbedMdiWorkspace
UIElementAdapters:
RadCommandBarUIAdapter
RadItemCollectionUIAdapter
RadMenuUIAdapter
RadMenuItemsCollectionUIAdapter
RadRibbonBarUIAdapter
RadTreeViewUIAdapter
RadTreeNodeUIAdapter
CAB Application Classes
RadWindowsFormsApplication
RadFormShellApplication
RadApplicationContextApplication
---
Sample application with UI for WinForms and CAB
The Telerik CAB Enabling Kit for WinForms solution comes with two sample applications - Finance and BankTeller. The finance application is modeled after the famous WPF WoodGrove Finance Application. It uses the CAB framework and all supported Telerik controls.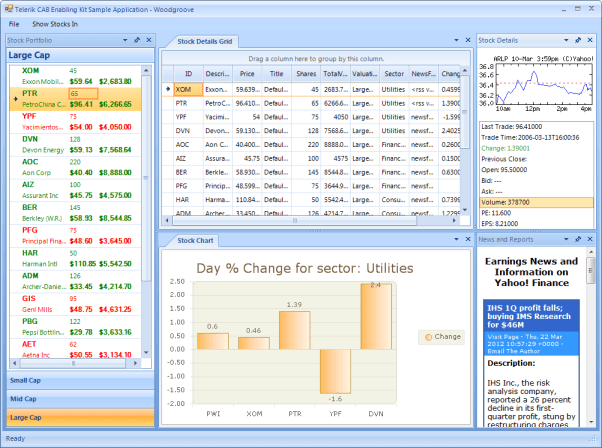 ---
The Telerik Commitment to supporting CAB
Being one of the first vendors to provide support for the CAB and the SCSF, Telerik is strongly committed to provide seamless and easy integration with the CAB infrastructure. To make the integration more robust and trouble-free, Telerik developed the CAB Enabling Kit for Windows Forms and released it as an open source project, hosted on CodePlex. This ensures that new adapters are added constantly by the community, and that the project is extended regularly. The project is fully supported by Telerik and is updated with each new Telerik release (at least 3 times per year) to guarantee that the latest Telerik versions are supported. All change sets and updates submitted on CodePlex are considered for inclusion when updating the main project.
---
Requirements
UI for WinForms
Visual Studio 2010
.NET Framework 2.0+
Microsoft Composite UI Application Block Framework